Personal PAC, Men4Choice, and Future Voices Council launched Jane's Army in January 2022. We started as a joint campaign to recruit activist volunteers to educate, motivate, and activate pro-choice voters ahead of the critical 2022 election.
We had such success in Illinois that our campaign will live on for future fights – including the 2024 election. Our volunteer army will be deployed on the ground in targeted races across Illinois to hold extremist anti-choice candidates and politicians accountable for their radical agenda. 
And we need you to help in the fight against anti-choice extremism in Illinois!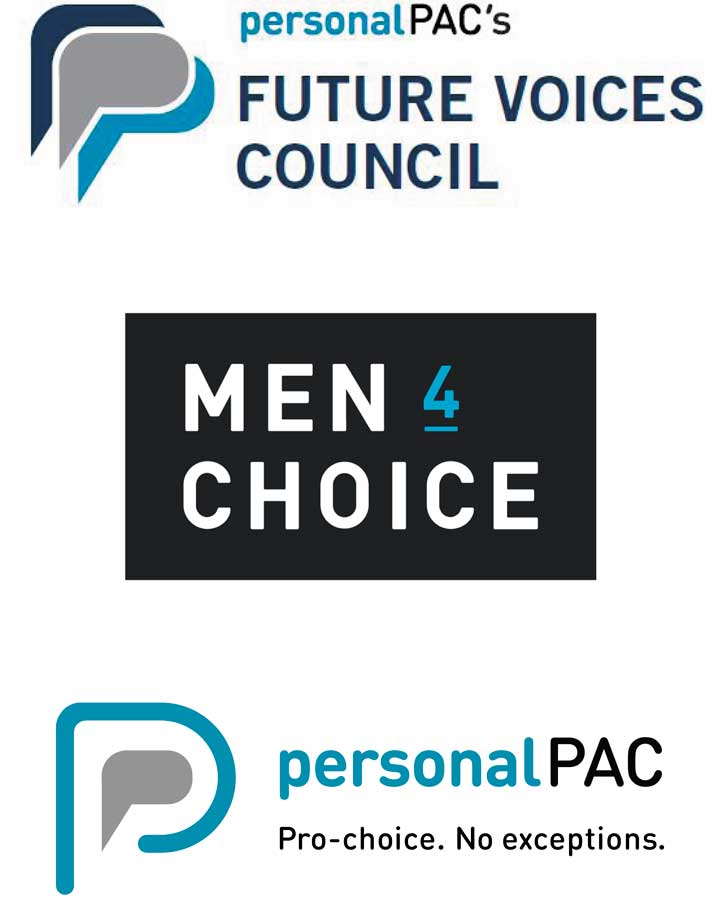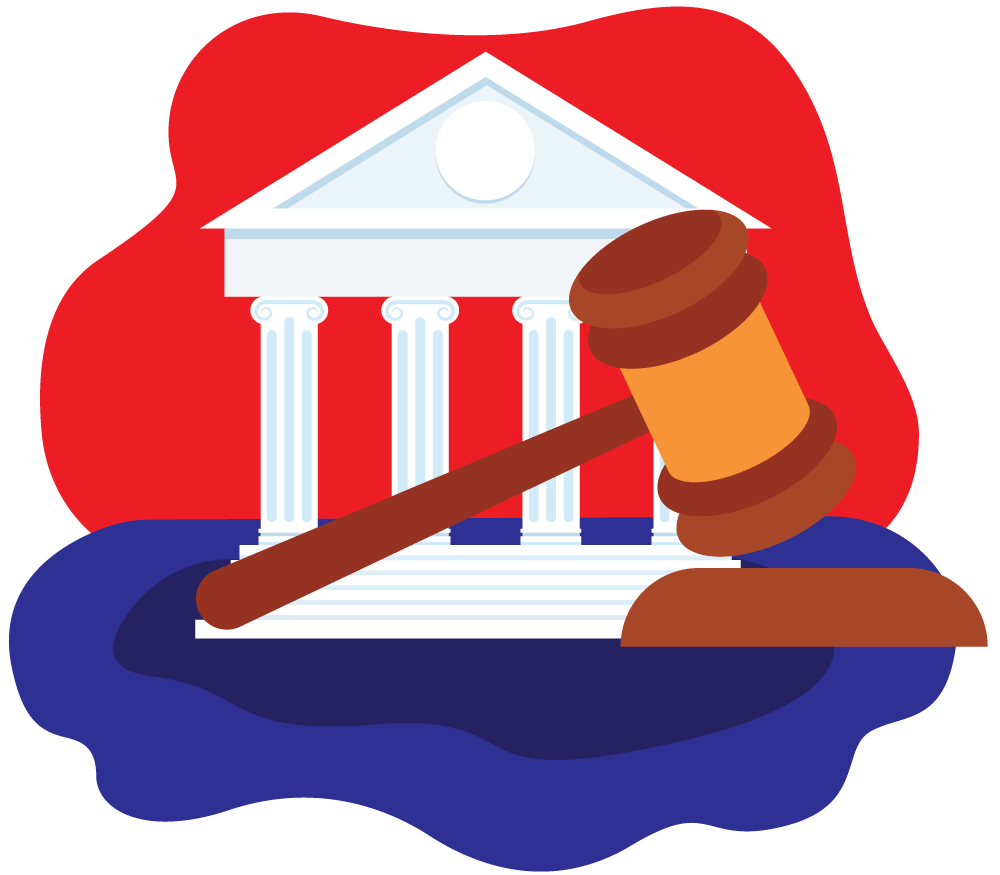 Over the last 40+ years, the radical anti-choice movement has pursued a single goal: Overturn Roe v. Wade and ban abortion in every state, including Illinois. And with their Trump-appointed Supreme Court, Roe has fallen. And now, they're wasting no time with their efforts to outlaw abortion state by state.
Without Roe v. Wade, millions of women and people who can get pregnant are now without access to abortion care in their home states. Too many people are now forced to travel hundreds, if not thousands, of miles to access a basic form of health care – and too many will not have the means to do so.
And we need you to help in the fight against anti-choice extremism in Illinois!
In the 2022 election, we faced an uphill battle to protect our pro-choice majority on the Illinois Supreme Court and in the Illinois General Assembly. Anti-choice extremists were just one seat away from controlling the seven-member court in the same way they now control the U.S. Supreme Court. All the protections and rights that advocates like you have worked so hard to ensure were at serious risk. Especially given that Illinois is currently the only state in the Midwest with laws that explicitly protect abortion – so people between the two coasts have no place to turn for their reproductive healthcare if we don't keep Illinois 100% pro-choice.
The anti-choice movement has been strategically working for 50+ years to overturn Roe v. Wade, and we'd be fooling ourselves to think that they will give up now. Roe was just the starting point – they're still after our birth control, IVF, marriage equality, and so much more.
Just because we had an awesome 2022 election in Illinois, doesn't mean we can call it quits. What it does mean is that the anti-choice movement will be back stronger than ever in 2024 here in Illinois.
We have no doubt that we can keep Illinois 100% pro-choice, but it will take all of us fighting like hell. Jane's Army will be ready for the fight and we hope we can count on you once again to join us!
How We Fight Back With Jane's Army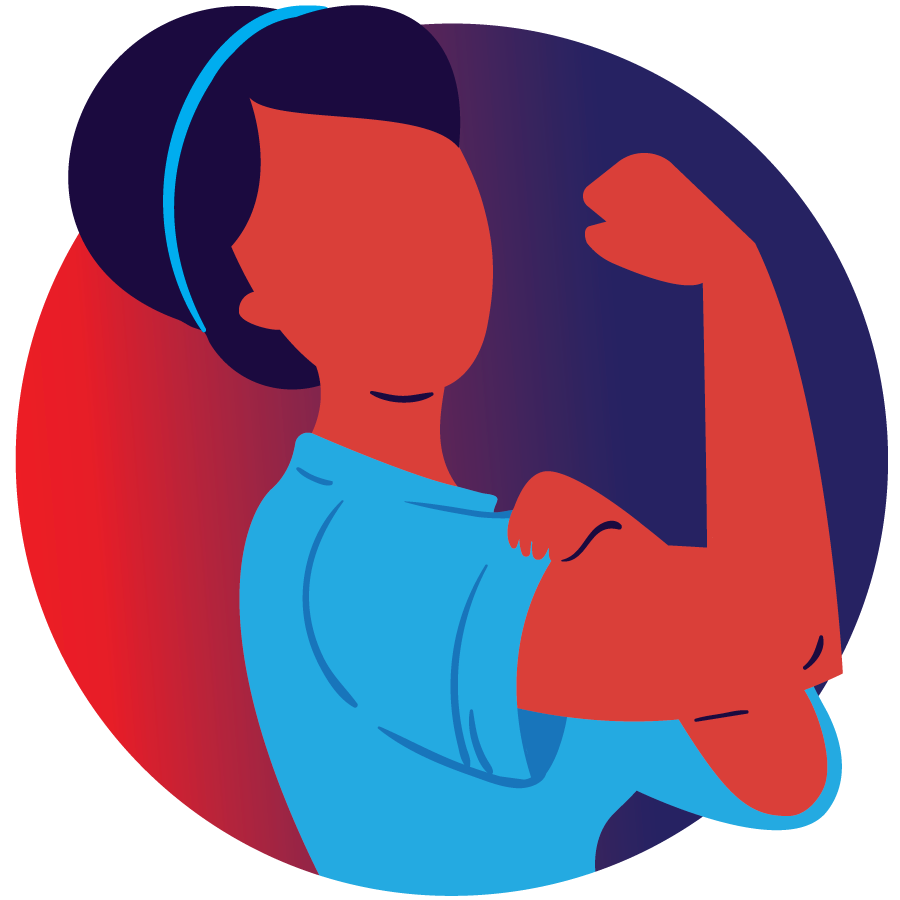 Jane's Army is building an army of partner organizations, activists, and volunteers just like you to educate, motivate, and mobilize fellow pro-choice voters. Our army will take the pro-choice message personally to the doors, streets, and phones of voters across Illinois. 
With our proven winning strategy, you can join us in strategic campaigns across Illinois to hold anti-choice candidates and politicians accountable for their radical agenda. We'll be hosting virtual and in-person events, taking to social media, textbanking, phonebanking, canvassing, and more. 
With Donald Trump's U.S. Supreme Court determined to destroy the 50 year precedent that abortion should be a private decision, as well as protecting the most commonly used forms of birth control, the time to act is right now! 
With your help we can fight back, and win, in Illinois.
2022 Results: How Jane's Army Won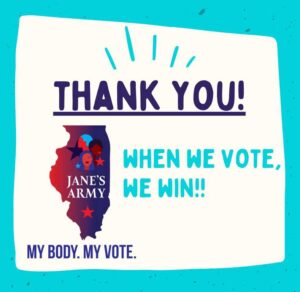 Since we started in January 2022, we've hosted half a dozen events, sent more than 12,500 postcards, texted more than 10,000 voters, and canvassed nine times for pro-choice candidates with the help of hundreds of volunteers.
In the 2022 election, Judge Liz Rochford and Justice Mary Kay O'Brien won their races for Illinois Supreme Court! This was our number one priority and we succeeded – we'll maintain our progressive majority on the court for another ten years. On top of this, of the 12 candidates we supported, all 12 of them won their races and will get the chance to fight for reproductive rights in Springfield.
None of this would have been possible without your support – so thank you for joining our fight and helping to make Illinois a better place!
Now we need to take this time to build up our base and get ready to fight back just as hard as the anti-choice side. As we saw in 2022, we can do it! We have the majority on our side, we just have to keep the pressure and energy up.
While the anti-choice U.S. Supreme Court eviscerates the future of legal abortion, access is also being destroyed in states across the country. But we can fight back, and win, here in Illinois.
Your help is critical in this war against anti-choice extremism in Illinois! Will you pledge to join our fight?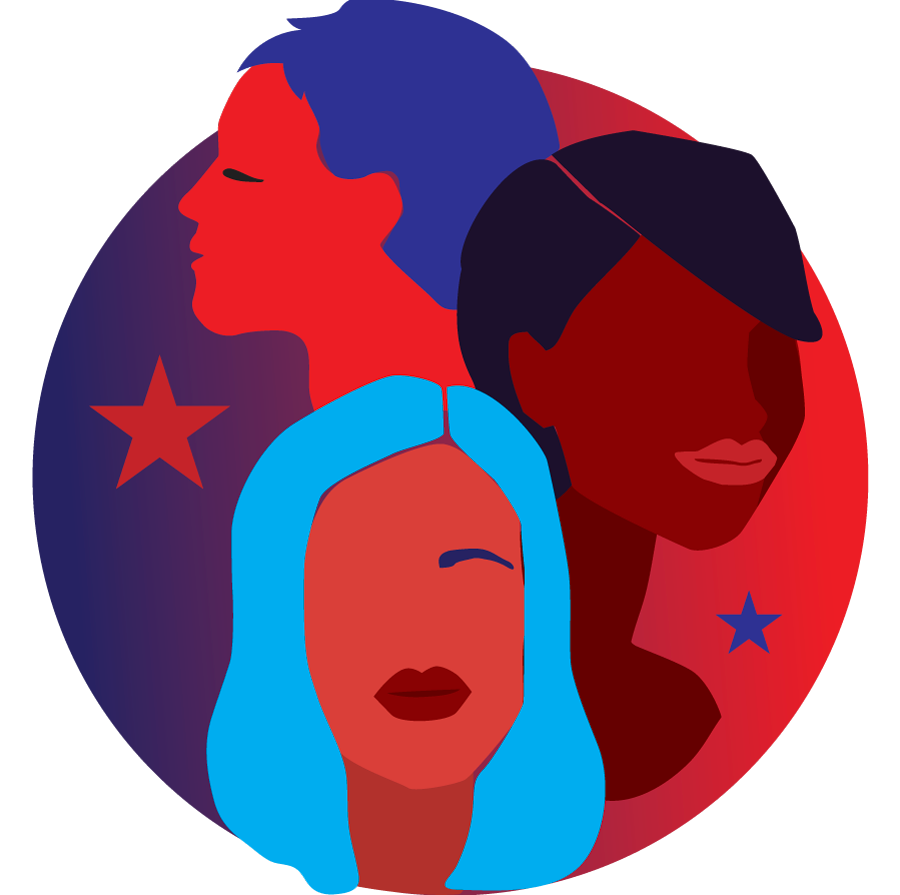 Check back soon!
In the meantime, check out our past events below to learn more and follow us on social media for updates.
Save the Date!
Wednesday, May 4, 2022

5:30 – 7:30 PM
The Hideout
Join us for our first in-person event!
Come for drinks, snacks, guest speakers, and to socialize with other pro-choice advocates.
Stay tuned for coming events & volunteer opportunities!
Check out our past events to hear from amazing guests speakers and learn how you can get involved!
You Be The Judge: The Illinois Supreme Court
Illinois Elections 101 & Fighting Back Against SCOTUS
Why abortion access is expanding in Mexico and ending in the U.S.
The War on Reproductive Rights & How We Fight Back in 2022 with Jane's Army
Check out "The Top 10 Worst Things About the Anti-Choice Movement" to see what they really stand for
Check out our Illinois Elections 101 factsheet ahead of the June primary and November general election
Campaign Leaders & Organizational Partners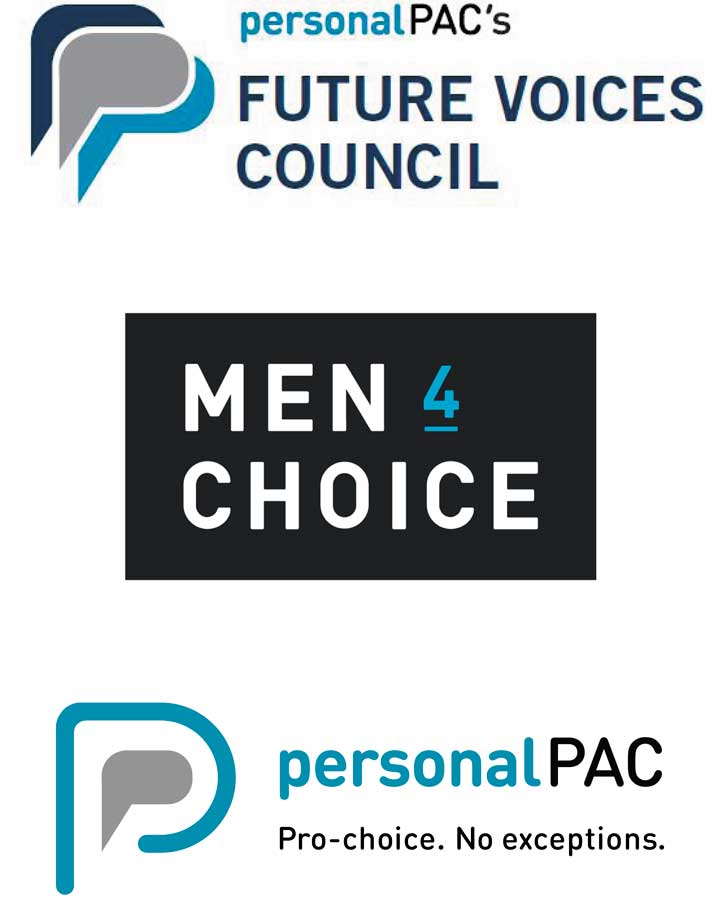 Future Voices Council brings together young people who are committed to protecting reproductive rights and electing pro-choice candidates in Illinois. Council members believe that everyone in Illinois should have access to abortion and birth control, and are active in supporting candidates who share that belief.
Men4Choice works to unconditionally support the women and impacted individuals leading this movement by activating, educating, and mobilizing male allies into the fight to protect and expand reproductive freedom.
Personal PAC is a nonpartisan political action committee dedicated to protecting and advancing reproductive rights for all by recruiting, electing, and holding accountable pro-choice candidates to state and local office in Illinois.
Jane's Army is proud to work with several incredible organizations across the state. If you'd like to join the fight, please get in touch! 
Chicago NOW
Equality Illinois
Friends Who March
Gun Violence Prevention PAC
Hope Clinic for Women
Illinois Handmaids
McHenry County Citizens for Choice
She Votes Illinois
Tenth Congressional District Democrats (Tenth Dems)
Whole Woman's Health Alliance
Young Democrats of Illinois
And more!
The Original Jane Collective
Jane's Army pays tribute to the original Jane Collective, a group of women who banded together in Chicago to provide access to reproductive health care from 1969-1973 when dangerous abortion bans were still in place during the pre-Roe era. 
The time has changed, but the fight hasn't. We need a new generation to step up in Illinois and carry on Jane's fight to protect abortion rights in the post-Roe era we are facing now.
Donate today to help protect Illinois from anti-choice extremism!